Royal Biotech GMO Rapid test kits indicate the presence of the CP4 EPSPS,PHY and BT Cry1AB proteins in genetically modified organisms. Specifications include a detection limit of 1ng/mL, accuracy >99%, a sensitivity of 1/1000 seeds and a specificity of 99% . Food Safety Rapid test kits include  Aflatoxin B1 (AFT) w/ cutoff level of 10ng/ml (10 ppb) and also is available of 5 ng/ml (5 ppb sensitivity ) for professional uses., Chloramphenicol (CPC), with a sensitivity of 0.3 ppb. Clenbuterol (CBL) w/ 3 ppb sensitivity. US FDA has set a limit of 20 ppb in all food commodities for human & livestock
GMO & FOOD SAFE DETECT
*GMO Rapid test kits indicate the presence of the
– CP4 EPSPS – PHY – BT Cry1AB – PAT – HPT- IrrE – NPT II – G2 EPSPS – BAR – BT/CP4 EPSPS combo
*Food Safety Rapid test kits include One Step
Shelf time : 24 months
Stored at  2– 30 degree C
* Do not freeze the test device & Kept away from direct sunlight , moisture and heat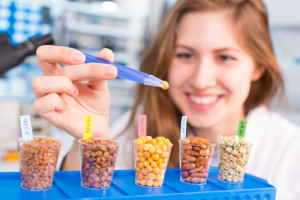 .
How to use our products in 5 easy steps:
Step 1 Extract seed/leaf tissue sample by grinding sample in Water
Step 2 Insert the end of the strips into the bag or tube that contains the sample.
Step 3 Take the strip out after 10 secs . Lay the strip ( Max side facing up)
flat on a clean, dry, non-absorbent surface.
Step 4 Read the results after 5-10 mins.
Step 5 Interpret test results:
Positive – Two pink bands appear at the control and test areas.
Negative – Mean either absent or below the limited.
Invalid – No visible band appears at the control panel.
Repeat w/ new test kit.
Royal DM Rapid GMO Test 06172015
Royal AFT P.Extract Strip A06 01 418
Royal Cry 1Ab Ac Strip A06 04 413
Royal Food Safety Rapid Test Strips series :
Serial #
Product Description
Specifications
Samples
Test Limit
1
Total Aflatoxin Rapid Test Strips 50 tests/Per Box
Wheat,Corn,Feed
2.5-100ppb
2
Aflatoxin M1
50 tests/Per Box
Raw Milk, Milk Power
0.1-0.3ppb
3
Aflatoxin B1
50 tests/Per Box
Feed
5 ppb
4
Deoxynivalenol(DON)
50 tests/Per Box
Feed, Raw Milk
200 ppb
5
Zearalenone
50 tests/Per Box
Feed
500 ppb
6
Zearalenone
50 tests/Per Box
Feed
100 ppb
7
Ochratoxin
50 tests/Per Box
Feed
100 ppb
8
Fumonisins
50 tests/Per Box
Feed
200 ppb
9
Fumonisins
50 tests/Per Box
Corn,Wheat,Feed
20 ppb
10
T2
50 tests/Per Box
Feed
200 ppb
11
Melamine(MEL)
50 tests/Per Box
Feed,Milk
100 ppb
12
Melamine(MEL)
50 tests/Per Box
Milk
200 ppb
13
B-Lactam antibiotics test strips
50 tests/Per box
Milk, Milk Power
Penicillin G 2 ppb
14
B-Lactam antibiotics test strips
50 tests/Per box
Milk, Milk Power
1 u
15
Chloramphenicol
50 tests/Per box
Milk, Milk Power
0.1 ppb
16
Chloramphenicol
50 tests/Per box
Feed
1 ppb
17
Streptomycin
50 tests/Per box
Milk, Milk Power
100 ppb
18
Quinolone
50 tests/Per box
Milk
10 ppb
19
Tetracycline
50 tests/Per box
Milk
80 ppb
20
Sulfonamides
50 tests/Per box
Milk
50 ppb
21
Gentamicin
50 tests/Per box
Milk
50 ppb
22
Lincomycin
50 tests/Per box
Milk
50 ppb
23
Kanamycin
50 tests/Per box
Milk
30 ppb
24
Furazolidone metabolites
50 tests/Per box
Tissue, Milk
0.5 ppb
25
Furaltatone metabolities
50 tests/Per box
Tissue, Milk
0.5 ppb
26
Nitrofurazon metabolites
50 tests/Per box
Tissue, Milk
0.5 ppb
27
Nitrofurantoin metabolites
50 tests/Per box
Tissue, Milk
0.5 ppb
Nitrofuran (AOZ)
50 tests/Per box
Tissue,Fisheries
0.5 ppb
AMOZ
SEM
AHD
28
Clenbuterol hydrochloride
50 tests/Per box
Urine,tissue,serum,feed
3 ppb, 50 ppb
29
Salbutamol
50 tests/Per box
Urine,tissue,serum,feed
3 ppb, 50 ppb
30
Ractopamine
50 tests/Per box
Urine,tissue,serum,feed
3 ppb, 50 ppb
31
Tetrodotoxin
50 tests/Per box
River Bass, Sea Bass
25 ppb
32
Malachite Green
50 tests/Per box
Tissue, water samples
2 ppb
33
Ceftiofur
50 tests/Per box
Milk, Milk Power
50 ppb
36
Erythromycin
50 tests/Per box
Milk, Milk Power
10 ppb
37
Tylosin
50 tests/Per box
Milk, Milk Power
50 ppb
38
dexamethasone
50 tests/Per box
Milk
0.2 ppb
39
Spectinomycin
50 tests/Per box
Milk, Milk Power
50 ppb
40
Thiamphenicol
50 tests/Per box
Raw Milk
5 ppb
41
Tilmicosin
50 tests/Per box
Raw milk, milk power
40 ppb
42
Florfenicol
50 tests/Per box
Raw Milk
50 ppb
43
Penicillin
50 tests/Per box
Raw Milk, Milk, Milk Power
4 ppb
44
B-Agonist triple 9 in 1
50 tests/Per box
Urine
Bromobuterol 2 ppb
Bromochlorobuterol 3 ppb
Bambutero  3 ppb
Clenbuterol 2 ppb
Karen Punt  3 ppb
Mabutero 3 ppb
Materia 3 ppb
Ractopamine 3 ppb
Salbutamol 5 ppb
*Detect Items of Pesticide Detection Test Cards include organophosphate, cholinesterase, carbamate residues
Limit of detection :
Methamidophos 1.7 ppm
Parathion 1.7 ppm
Dichlorvos 0.3 ppm
Malathion 2.0 ppm
Monocrotophos  2.5 ppm
Dimethoate 1.3 ppm
Isocarbophos  3.1 ppm
Acephate  3.5 ppm
Dipterex 0.3 ppm
Carbofuran 0.5 ppm
Carbaryl 2.5 ppm
Carbosulfan 1.0 ppm
PS: Items, limit of detection can be added/adjusted according to your specific demand